High-quality materials, attention to detail, and unique designs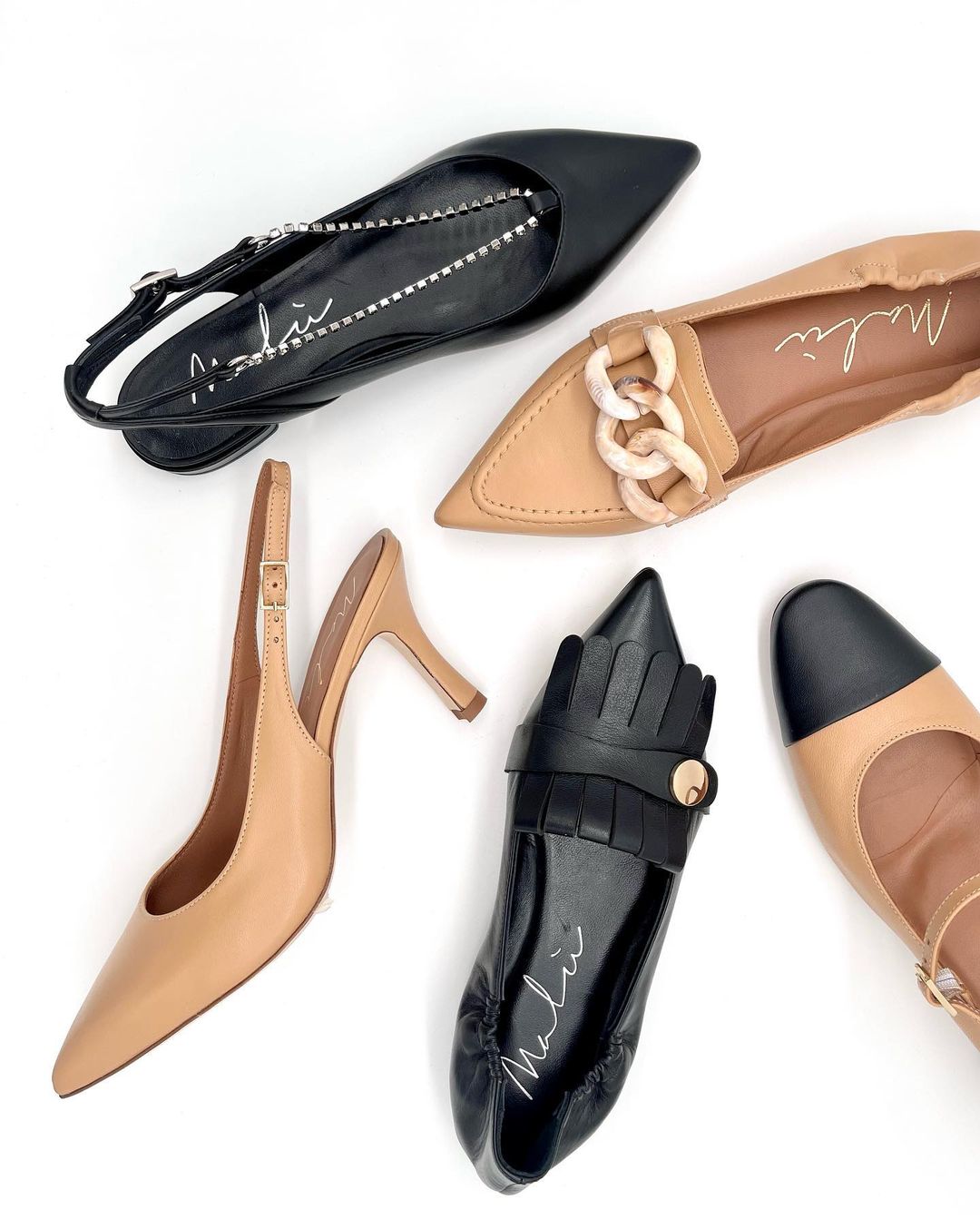 All of PUNTINO's models are hand-picked and ordered directly from the manufacturers, which means that they are truly unique and made in limited editions. We are passionate about our shoes and bags and we know that you will love them too. Make every step count in PUNTINO shoes.
Get to know our brands
Malú
Malú is a classic Italian shoemaking brand known to be a forever choice of its customers, especially for stiletto shoes. Once you try Malú pumps, you will never go back! Five, seven, or even nine-centimeter heels - no matter the height, comfort is guaranteed and supported by very soft insoles. Malú is founded decades ago by the Sica family in the beautiful city of Naples. Each generation of the family is dedicated to progressing the highest quality production standards even further.
Mat:20
Mat:20 is a contemporary Italian shoemaking brand. It is is known for its innovative designs and the use of high-quality materials. Mat:20 are cool every-day comfort shoes, known for having a special twist. Popular direction created by Mat:20 has been followed by many brands, not only because of trend-setting and reputation with the customers, but also because they are known to meet the expectations of most demanding feet. All of their shoes are made by traditional hand-crafted techniques.
Evaluna
Inspired by women for women, Evaluna is a new way of understanding shoes: more than a simple accessory to match, they become a form of expression. Evaluna always wants to give more. The well-known Evaluna style was born in 1996 and is affectionately marked by a deep-rooted artisan culture. Experiencing Evaluna will give you the feeling of authentic luxury: inspired designs, extraordinary materials, exceptional craftsmanship and exclusivity. Four elements brought together in a single result. Strength, Passion, Sensuality, Eccentricity, Uniqueness, a purely animal behavior. These are all women's guilty secrets, hidden somewhere in their soul. Evaluna knows! Inspired by the integrity of these values, we created exactly what women want. An opportunity to stand out from the ordinary and burst into the pleasure of being completely yourself!
Mara Bini
Mara Bini luxury shoes are hand-crafted at the heart of Veneto's most famous shoemaking district. Founded in 1988 the brand has evolved into a true essence of highest quality, elegant and most comfortable women's premium shoes. The production in iconic "Riviera del Brenta" is entirely made in the Mara Bini factory by own craftsmen with long experience, caring premium materials and leathers, following proven traditional method of hand sewing, known as "lavorazione a sacchetto". Brand can be recognised by its meticulous attention to detail, cutting and finishing. These shoes are considered as unique and characterised by refined style.
Walter Violet
Walter Violet is hand-made Italian shoe brand established in 1923. Their shoes are different and adorable. Some of their iconic models are carried on for decades, but every season they are recreated in new variations of colours and materials that will take your breath away. A hundred years of experience is the best possible guarantee of comfort and quality. The best Italian shoe stores name Walter Violet as "shoes with a soul".
Poesie Veneziane
The name tells it all. This brand is pure poetry of Italian shoemaking. It was founded by Gabriele Conte, a veteran of the industry with 40 years of experience designing and developing collections for Italian manufacturers and international brands, together with his son Sebastiano, who worked for Moncler and Benetton. They created a unique brand of comfortable shoes known for bolder design expressing modern imagination.
Gielle Viareggio
Gielle is a family-run small manual factory in Viareggio, Tuscany, with a tradition of over 60 years. Why their shoes are so special, in their own words: "When you buy one of our products, you are buying days, weeks and months of our creative frustration, and moments of pure joy. You buy a piece of our heart, a part of our soul, a moment of our life. This is us, this is Gielle".
L'arianna
L'Arianna shoes are created with a special hand-crafting process "lavorazione a sacchetto" in which the lining is sewn directly to the insole to provide maximum flexibility and comfort. You can literally fold their shoe in two, whether it's a flat or a décolleté, it will return exactly as it was before as soon as you leave it. L'Arianna was founded in Naples in the 60's by the Capuano family, with the idea to make every woman feel like a queen. The founder Pasquale Capuano was well known for his dedication to craftsmanship. Over the years he became one of the most successful Italian shoemakers.
4B12
4B12 is the most wanted Italian IT brand of sneakers. The "streetwear" soul of 4B12 makes it a young and dynamic brand. For 4B12 as a concept brand "street style" is a lifestyle - originally it meant wearing what one was, in a simple and spontaneous way. Without conforming to social conventions, with its design 4B12 celebrates the joy of life and values of freedom and independence.
Semerdjian
Semerdjian is a young French shoe brand from Marseille created by Eric Semerdjian, a lifelong shoe lover and manufacturer. The Semerdjian collections are inspired by multiple trends. Shoes and boots are made with premium materials in Italy. With collections that are always more trendy and original, Semerdjian combines urban glamour and fantasy to perfection.
SMR23
SMR23, a sister brand of Semerdjian shoes, are colourful, flashy sneakers decorated with sequins and rhinestones, designed in France and made in Portugal. For many seasons now, the SMR23 brand has mixed comfort and originality in its designs, with quality leather both on the outside and the inside. The result is unique models of sneakers that everyone wants.
Moaconcept
Moaconcept is a young Italian brand of leather sneakers made for confident women who want to stand out and be original. It is also a brand dedicated to environmental and social causes, striving to deliver true change by, for example, using recycled leather as much as possible. Moaconcept, born in 2013, has delivered award-winning collaborations with Disney and Looney Tunes.
Les:Venues
Les:Venues shoes are feminine, colorful, and joyful. These Italian beauties are modern interpretations of evergreen models worn by generations of fashion-savvy women. Les:Venues shoes last both in style and durability, using only high-quality leather and traditional craftsmanship while providing excellent value for money.
Cristina Millotti
Cristina Millotti's journey began in 1967, when Millotti Natalfranco decided to found the Giselle shoe factory in Arezzo, Tuscany. Flanked by his wife Silvana, he decided to deal exclusively with women's production. High craftsmanship and a passion for precision, loyalty to tradition and innovative capacity are the elements that have always characterized the Cristina Millotti shoe. Over the years he has passed on his passion and love for shoes to his daughter Cristina. The artisan company, always guided and controlled by the Millotti family, ensures that the finished product, made as a whole by the combination of strong passion and high technical capacity, corresponds to the characteristics of the Italian product.
Arcadia
Arcadia leather handbags are the perfect example of all the style and quality of true Made in Italy products. Arcadia is a brand with an experimental approach to design. Silhouettes are linear, architectural, and they come up from an exploration of the unexpected. Arcadia creates an unconventional proposal with a contemporary perspective of the new luxury. An inclusive vision that goes beyond fashion with the influences of art, music and international culture. Arcadia products are designed to be projected into the future and they are made for always, not just the current season. A divergent perspective opposed to fast fashion.
Franco Fedele
Operating for over half a century, Franco Fedele has established itself as a brand that guarantees quality and refinement, appreciated today by all lovers of pure classical Made in Italy. Made up of a team of stylists, pattern makers and designers who are always up to date on current trends Franco Fedele's is always dedicated to innovation and the search for new styles to wear. The company produces high-quality and particularly beautiful footwear using only and exclusively Italian raw materials and manufacting.